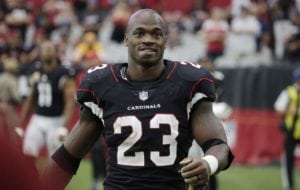 Adrian Peterson and the Washington Redskins will meet Monday according to ESPN writer John Keim. The Redskins lost rookie  Derrius Guice to a season-ending torn ACL. Bryon Marshall and Samje Perine are out with ankle injuries. With all the injuries at the running back position that led the Redskins to Adrian Peterson.
Last season with the Saints and Cardinals, Peterson ran for 529 yards and two touchdowns in ten games. Peterson best game came in week seven against the San Francisco 49ers. Peterson carried the ball 37 for 159 yards that day.
Peterson, 33  in his career rushed for 12,276 that is 12th on the NFL all-time rushing list. His best season came in 2012 where he rushed for 2,097 yards second only to Eric Dickerson.